A 2010 graduate of Mater Dei High School, Cory earned four varsity letters and served as team captain in 2010...In his high school career, Cory earned First Team All-League & First Team All-State, Trinity League MVP honors, 2010 Orange County Player of the Year, CIF Player of the Year, Max Preps State Player of the Year and was named California's Mr. Baseball. Cory was on top of his game.
Following high school, Cory was drafted by the San Diego Padres, but decided to attend Arizona State University. After only the second day of his college baseball career, Cory's life changed dramatically. In the first inning of the second game of the day, he went to steal second base. Sliding head first colliding with the second baseman, Cory suffered a C-5 fracture of his spinal cord, ultimately leaving him paralyzed from the chest down.
Like the way he excelled in baseball, he has kept an amazing attitude. Cory now spends his time doing outpatient rehab and is taking one day at a time. This hasn't just changed Cory's life. With the mounting bills and all the time it takes to care for him, Cory's father, Dale, has retired from his job to be his son's full-time caregiver.
Cory is part of the Trinity family and we want to do everything we can to help support him and his family during this difficult process. The Trinity team has specially designed a one of a kind, hand crafted Trinity model for Cory's cause. Every Pro Model HAHN purchased through Trinity will make a difference and impact Cory directly. 15% of every HAHN model will be donated to the Cory Hahn Fund and help Cory and his family during this difficult journey of recovery. Swing the Pro Model HAHN and make a difference!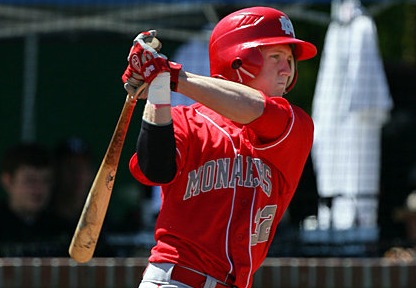 Click to help Cory and swing the Pro Model HAHN!

Further Donations can be made to:

Mater Dei High School(Memo Section) Cory Hahn Fund1202 W. Edinger AveSanta Ana, 92707

Some information from this page was used with material from materdei.org/coryhahnfund